NOTE: Here's a Special Report we provide exclusively to our Premium Access members, but we're giving this to you absolutely free! To obtain full access to all Premium-exclusive stock recommendations, why not upgrade to Premium Access for as low as P399.00 a month?
Recommendation
Based on the forecasts provided in the Company Prospectus, the maximum offer price of P3.15 would give Citicore Energy REIT Corp. (CREIT) a dividend yield of 5.71% in 2022 and 6.03% in 2023. This would give it the second highest dividend yield among the currently listed REITs, far behind DDMPR but slightly ahead of FILRT.
The price-to-earnings ratio at the offer price would be fair, at 16.8x of 2022 forecasted earnings. This would be at a slight premium to the 16.4x P/E ratio of the PSE index, but much lower than the 42.3x P/E commanded by comparable RE peer AC Energy (ACEN). However, CREIT would be slightly more expensive if compared to the 11.9x average P/E of comparable listed power generation/distribution companies, excluding RE outliers.
Despite this, given the unique nature of CREIT and the market's willingness to pay huge premiums for pure RE plays like ACEN and SPNEC, we don't expect the relatively high P/E ratio to limit CREIT's potential upside. Moreover, the higher-than-average dividend yield may allow for more upside in CREIT's share price, especially given the expected strong demand for the IPO.
Taking all this into consideration, we are setting a target price of P3.75 for CREIT.
IPO Analysis
Company Overview
CREIT will be the second pure renewable energy (RE) company, and the sixth REIT, to list on the PSE. However, it will be the first to be a combination of both.
CREIT will be offering 2,788,932,000 shares at a maximum price of P3.15 per share, with an over-allotment option of up to 418,339,000 common shares, resulting in a public float of 49% post-IPO. The company currently has leasehold rights for four properties in Clark Freeport Zone (Pampanga), Tarlac City, Toledo City (Cebu), and Silay City (Negros Occidental) with a total land area of 151.54 hectares, and owns one property in Tarlac City with a land area of 13.82 hectares. These properties are being leased to solar power plants with a combined generation capacity of 123.7-MW. The company plans to use the proceeds from the IPO to acquire two additional parcels of land in San Ildefonso (Bulacan) and Suralla (South Cotobato) with a combined land area of 33.39 hectares, which are being leased to solar power plants with a combined generation capacity of 31.2-MW.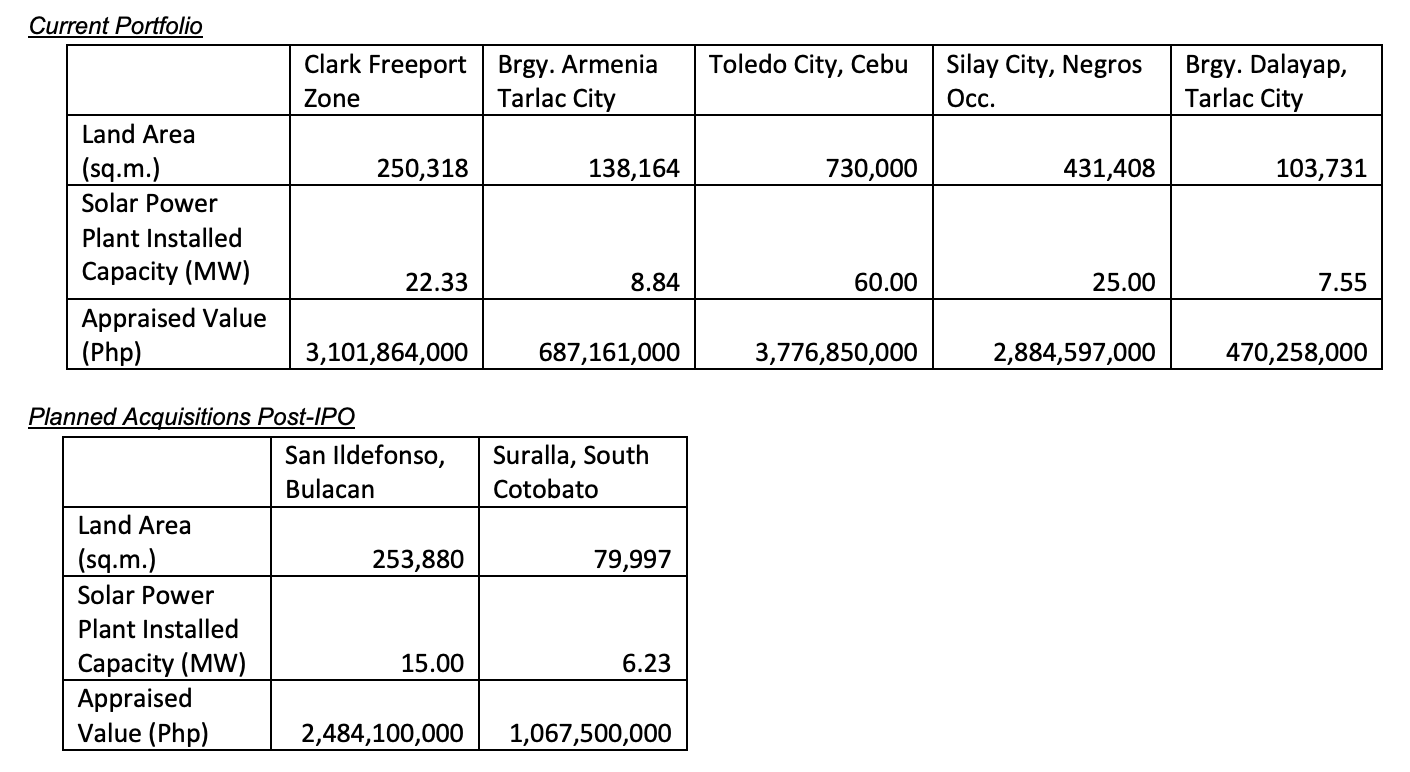 Indirect Play on RE sector
Unlike the typical REIT which derives its income from fixed leases, CREIT's has a more variable lease rate which is composed of two components: a guaranteed base lease which is computed from the average power generation revenue of the solar power plant for the past three years, plus 50% of any power generation revenues in excess of the guaranteed base lease. The base lease is fixed for the whole year and paid monthly, while the variable lease is paid in full at the end of the year.
This would make CREIT an indirect play on the country's booming renewable energy sector. Further, 94% of the power output of the solar power plants under CREIT's current portfolio are already contracted, which assures a fixed rate until the expiration of the contract. The remaining 6% of the power output is sold through the Wholesale Electricity Spot Market (WESM).
Risk Warning
The Chairman of CREIT, Edgar B. Saavedra, as well as three members of the Board of Directors: Oliver Y. Tan, Jez G. Dela Cruz, and Manuel Louie B. Ferrer, have pending cases filed by the Department of Justice (DOJ) for alleged violation of RA 3019 Section 2-A, or The Anti-Dummy Law, in connection with their involvement in allowing foreign nationals to assume management positions in Mactan Cebu International Airport.
Also, all of CREIT's tenants are affiliates of the company or subsidiaries of its parent company, Citicore Renewable Energy Corp.
Also check out this other CREIT IPO Special Report!
This report is prepared by PinoyInvestor's partner broker below. Find out more about our partner brokers and sign up to avail their complete trading brokerage services.