The first major economic data point to be released this year is the Philippine inflation print, or Consumer Price Index (CPI), for December 2022. The Philippine Statistics Authority (PSA) announced today that inflation rate soared to 8.1% in December 2022, the highest since November 2008.
The latest inflation figure is slightly higher than the 8% recorded in November 2022 and more than double December 2021's 3.6%. For the entire 2022, inflation averaged at 5.8%, well above the target range of 2% to 4%.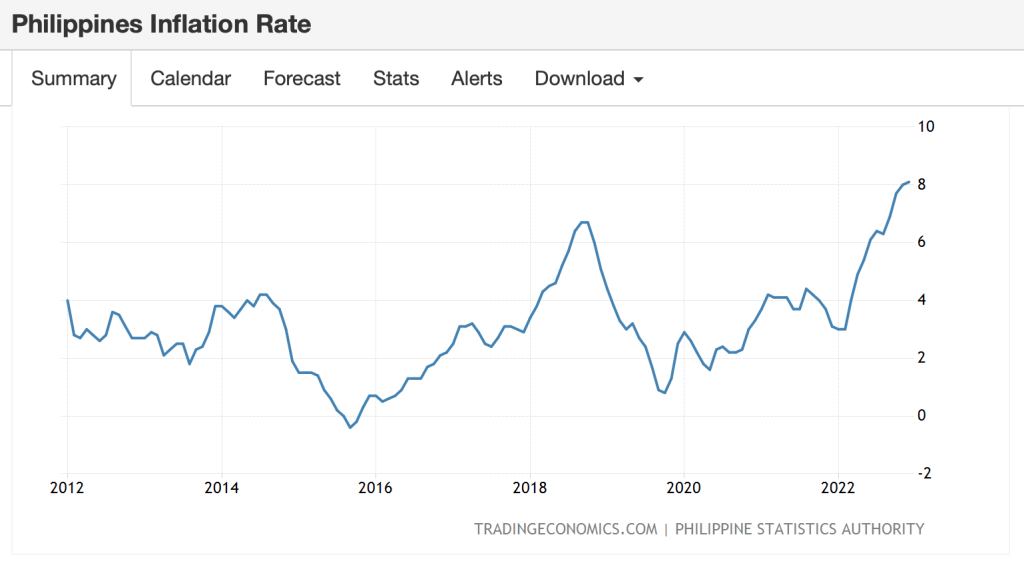 Analysis and Recommendation
The December CPI is expected to be the highest for the year. One of the major factors driving inflation is the higher prices of agricultural products brought about by the impact of Typhoon Paeng on food supply. The government sees the supply impact of Typhoon Paeng to last until the 1st quarter of this year. Damage covers more than a quarter of the country's agriculture, forestry, and fishing output. Another factor driving inflation is electricity cost, as Meralco raised power rates by P0.3297 to P10.2769 per kilowatt-hour last month.
We expect December to be a near-term peak as the January 2023 inflation should fall below 8%. The high base effect should lower inflation but it will still be above the ideal levels of the BSP. The BSP sees inflation to average 4.5% in 2023 before easing to 2.8% in 2024.
Nonetheless, peak inflation is no longer headline material. What matters more is the effect of high inflation on monetary policy and latter's lag effect on the economy.
This report is prepared by PinoyInvestor's partner broker below. Find out more about our partner brokers and sign up to avail their complete trading brokerage services.