NOTE: This is a Premium-exclusive report, originally for our Premium Access members only, but we're giving this to you FREE! To view other FREE stock reports, click here. To get full and unlimited access to all Premium-exclusive reports, upgrade to Premium Access for as low as P399.00 a month!
SM Investments Corp. (SM) reported 2022 net income of P61.7 Billion, up 53% year-on-year (YoY), with its top-line reaching P553.8 Billion (up 28).
SM's banking business continues to account for the majority (45%) of its net income followed by property (23%), retail (21%) then portfolio investments (11%). For fiscal year 2022, the performance of its subsidiaries are as follows: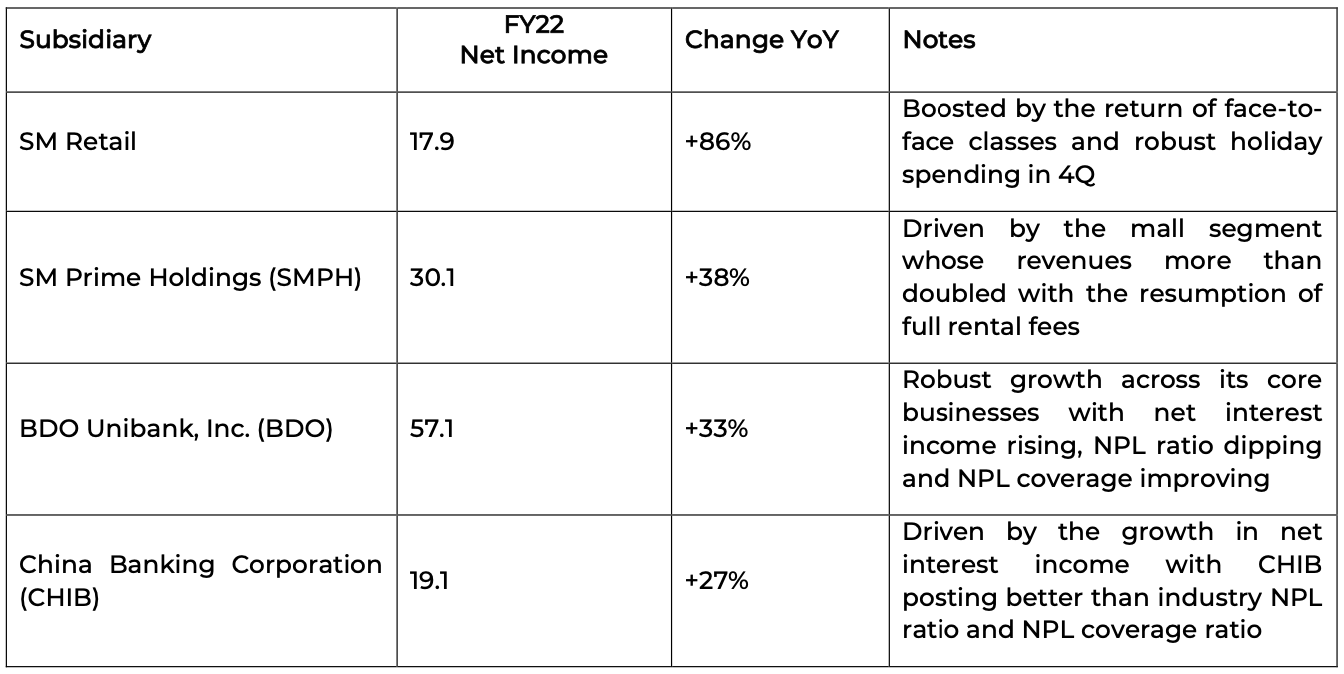 Analysis and Recommendation
Amid current macroeconomic headwinds, SM remains resilient with its 2022 net income surpassing consensus estimates by 15%. SM and all its business units delivered strong results as they continue to be market leaders in their respective industries.
Even with the 5-8% increase in prices (within industry and inflation rates), demand continues to be strong as SM Retail's revenues grew by 24% year-on-year. Mall foot traffic has also already reached pre-pandemic levels and even surpassed it on the weekends.
Overall, as we anticipated back in the 3rd quarter last year, it is the reopening of the economy, improved consumer sentiment, and rising interest rate environment (aiding the banks) that helped foster SM's growth.
We continue to see this momentum supporting SM's growth in 2023. Aside from this, management also expects an improvement from its China malls this year with the lifting of the zero-covid policy driving foot traffic and tenant sales.
This report is prepared by PinoyInvestor's partner broker below. Find out more about our partner brokers and sign up to avail their complete trading brokerage services.