NOTE: This is a Premium-exclusive stock report, originally for our Premium Access members only, but we're giving this to you free! To view other FREE stock reports, click here. To get full access to all Premium-exclusive reports you won't find anywhere else, upgrade to Premium Access for as low as P399.00 a month!
Analysis and Recommendation
The Philippine stock market is at its cheapest level since 2020. Despite numerous headwinds, we believe that the market is nearing a short-term bottom as its current P/E ratio is now at 12.6x while blended forward 12-month (BF12) P/E is at 10.7x.
These are the lowest valuations seen since May 2020, when the world stood still amidst tight COVID lockdowns.
The current and BF12 P/E ratios are 34.8% and 29.5% below their 5-year averages of 19.3x and 15.2x respectively, and 15.0% and 18.6% below their respective SD-1 (one standard deviation below average). In particular, the BF12 P/E ratio is also below its SD-2 (two standard deviations below average) of 11.1x.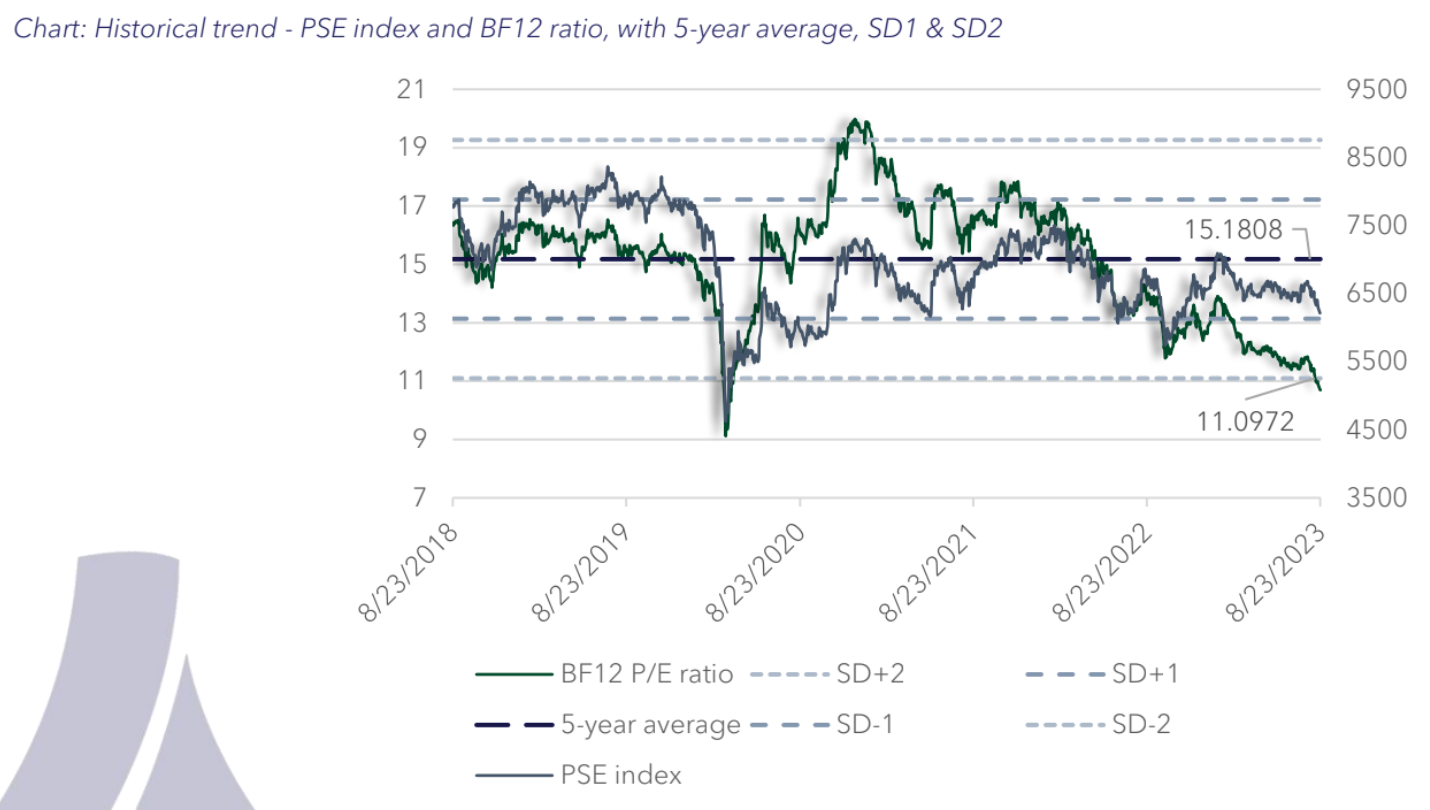 Our View: Eyes on key support levels. We are looking at the index finding support between 6,100 and 6,200, and while the major support remains at the psychological level of 6,000, we find it unlikely for the index to test that level barring any major events. As such, we may see a bounce of 250 to 300 points once the index hits those support levels. Given this, we would be on the look-out for opportunistic buys over the next few days.
The PSE index has lost 1.9% over the past week, and 5.8% since end-July. Numerous macroeconomic factors have contributed to the drop such as:
Weak 2Q23 GDP growth and mixed 2Q 2023 earnings. Inflation has finally made itself felt in the consumer sector, which is the pillar of the Philippine economy. This weakness has made its way into corporate earnings, as rising input costs meet softer consumer demand.
More inflation on the horizon. Rising gasoline and food prices point to an uptick in inflation in the coming months. This will likely continue to impact GDP growth and corporate earnings in 3Q 2023.
Index rebalancing. MSCI has cut the Philippines' country weighting on its Global Indices, which would translate to around $53-Million in net outflows by the end of August. Most notably, index heavyweight AC is expected to see outflows amounting to 13.6x of its average daily volume. Another index provider FTSE has also removed several names from its roster, most notably AP, citing failure to meet trading liquidity requirements.
China's half-hearted attempt to support its floundering economy. China cut its 1 year loan prime rate (LPR) by 10 bps to a record low of 3.45% on Monday, but kept the 5-year LPR steady at 4.20%. Both moves were less aggressive than what most economists expected and hoped for.
Expectations of more hawkish statements from the Fed. Fed Chair Powell is set to speak at Jackson Hole on Friday, and most market watchers are expecting the Fed Chair to remain as hawkish as ever, likely reiterating his stance that there will be no rate cuts in the near-term.
Summary of Broker's Recommendation
This report is prepared by PinoyInvestor's partner broker below. Find out more about our partner brokers and sign up to avail their complete trading brokerage services.