NOTE: This is a Premium-exclusive stock report, originally for our Premium Access members only, but we're giving this to you free! To view other FREE stock reports, click here. To get full access to all Premium-exclusive reports you won't find anywhere else, upgrade to Premium Access for as low as P399.00 a month!
Analysis and Recommendation
The Philippine Stock Exchange (PSE) has released the results of its semi-annual indices review. The benchmark PSE Index will see no changes, which should ease some pressure off Converge ICT Solutions, Inc. (CNVRG, BUY: Target Price of P16.50).
There have been some speculation in recent weeks that CNVRG could be on the chopping block, following the 43.9% decline in its market capitalization since the last index review. The bad news is that it is still the next candidate for removal from the index unless its 1st half (1H) 2023 earnings result on Aug 10 manages to give enough of a positive surprise to arrest its downward slide.
As of this writing, Bloomberry Resorts Corp. (BLOOM, BUY: Target Prcie of P13.70) also remains next in line for inclusion in the index if Metro Pacific Investments Corp. (MPI) can secure shareholder approval on August 8 for its voluntary delisting.
Nickel Asia Corp. (NIKL) is next in line for inclusion in the event that CNVRG gets removed in the February index review to be announced in late January of next year.
The Financial and Holdings sectoral indices will likewise see no change, while the Services index will see the removal of Transpacific Broadband Group Int'l, Inc. (TBGI) and the entry of Belle Corp. (BEL), DFNN, Inc. (DFNN), Digiplus Interactive Corp. (PLUS) and Harbor Star Shipping Services, Inc. (TUGS).
The Property index will include Citicore Energy REIT Corp. (CREIT), Ever-Gotesco Resources and Holdings, Inc. (EVER) and MRC Allied, Inc. (MRC), while seeing the removal of D. M. Wenceslao and Associates, Inc. (DMW) and Primex Corp. (PRMX).
The Industrial index will see the exit of Shakey's Pizza Asia Ventures, Inc. (PIZZA), Cemex Holdings Philippines, Inc. (CHP) and Roxas & Co. Inc. (RCI) to be replaced by Raslag Corp. (ASLAG) and Figaro Coffee Group, Inc. (FCG). While both classes of Lepanto Consolidated Mining Company (LC, LCB) will be removed from the Mining & Oil index.
FCG will also replace CREIT in the newly-created Dividend Yield index, while Ginebra San Miguel, Inc. (GSMI) and Philippine National Bank (PNB) will takes the spots of AyalaLand Logistics Holdings Corp. (ALLHC) and Petron Corporation (PCOR) in the MidCap index.
Here's a summary of the changes to the index composition effective August 7, 2023.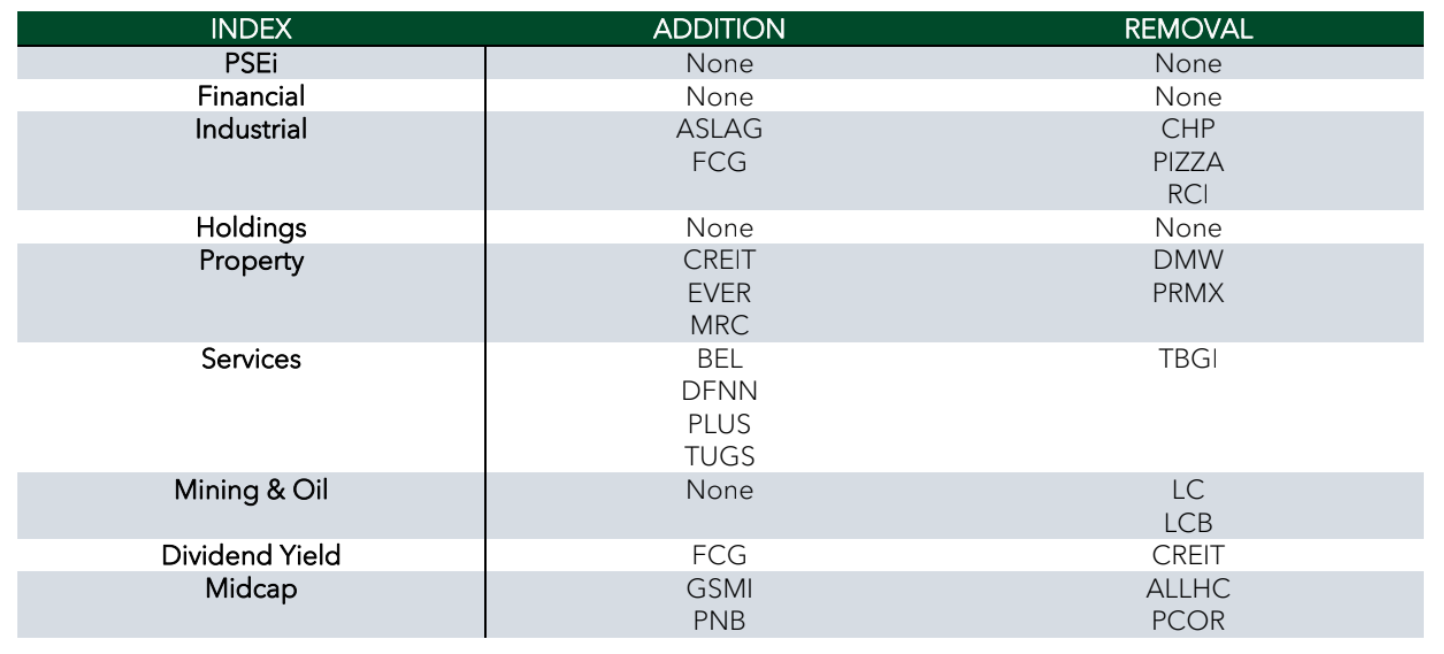 This report is prepared by PinoyInvestor's partner broker below. Find out more about our partner brokers and sign up to avail their complete trading brokerage services.