Our Expert Partner Brokerage Firms
With 100++ years of profitable, stock market experience





As much as 98% return on your investment in 2012!
With PinoyInvestor's Top Stock Picks
In 2012, the expert partner brokers of PinoyInvestor had these Top Stock Picks: RCB, FGEN, ALI, VLL, PGOLD, and MEG. If you had followed them, you would have earned a return of anywhere from 66% to 98%!
That means you could have almost doubled your money IN JUST ONE YEAR! If you had invested just P50,000 then, you would have had as much as P99,000 by the end of 2012!
This is PinoyInvestor. This is what could happen when you have access to the Top Stock Picks of the Philippines' best brokerage firms. Use several experts' research reports, condensed and tabulated in a document, as your stock investment guide!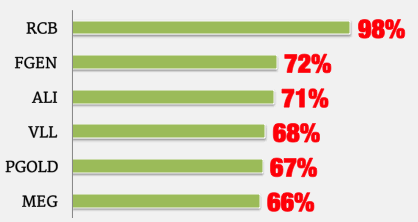 With PinoyInvestor, you get ALL these great benefits!
In the weekly PinoyInvestor Stocks Report
Top Stock Picks

Want to buy stocks with the highest upside potential? Get to know the most coveted top stock picks of not just one, but several of the Philippines' best brokerage firms to maximize your profits!

Buy/Sell/Hold Reco's

Which stocks are recommended by all brokers that you buy? That you sell? See their consensus Buy/Sell/Hold recommendations to make more profitable and less risky trades!

Blue Chip or Speculative

Want to invest in stable blue chips OR riskier but high-yielding stocks? Whichever you prefer is fine because you'll always get 3 sets of stock picks: PSE Index, Growth/Value, and Speculative Stock Picks!

Target Prices

Not only will you get our expert brokers' stock picks, you'll also see these stocks' target prices! Know their fair value so you can buy and sell at the right price!

Technicals Talk

Want short-term trading over long-term investing? Check out our partner brokers' technical analysis, support/resistance levels, and chart pattern analysis on the PSEi and PSE stocks!

Stock in Focus

We'll occasionally focus on some PSE stocks to highlight our partner brokers' opinion about them. Using both Fundamental and Technical analysis, see different brokers' take on these stocks!

PinoyInvestor Academy

Continuously make better investments! Get FREE access to ALL our educational materials on stock market investing in the PinoyInvestor Academy!

Make Money!

Share PinoyInvestor to friends and earn money! We'll reward you up to P500.00 outright commission for every person you refer to a Premium Access subscription!

Earn Passive Income!

On top of the outright commission, earn P100.00 month after month every time your referred affiliate renews subscription! That's passive income for you!
Join THOUSANDS of satisfied PinoyInvestor members!
If we did not convince you, maybe a few words from our customers will!
I never would have made these gains if it weren't for your stock picks! Di ko nga man lang pinapansin yung ibang stocks had you not listed them on the report.
This has to be the best guide for us stock investors! I mainly stick to blue chip but sometimes I pick Speculatives na rin and it's been good so far! Thank you po PinoyInvestor guys/ma'am.
Actually, OK po siya. I never thought I would learn so much about stocks! Buti nalang free yung resources sa Academy hehe.
In general I am happy with what I am getting from PinoyInvestor - both the service and the affiliate income.
I think PinoyInvestor is relevant and useful not like other newsletters that only focus on Blue Chips.
I'm only a free access member but I can already imagine how useful the resources are. Thanks for the free access and more power to Pinoy Investor!
I'm really glad that I decided to join Pinoy Investor. There are so many informative items that I have learned and will eventually apply in my future stocks trading. Keep up the good work and more power to Pinoy Investor!
Thank you! I am using your tools to learn more and not just reading the recommended signals. Please keep up the good work. coz you are really doing a great job po. More power po!
Wow! So this is what it feels like to always have so much information about stocks! Ang daming natututunan, especially Stock in Focus and the Special Report. I love Premium Access ah. Buti nalang I upgraded talaga!