UPDATE (December 2019): We have an ongoing discount promo bringing down the price of our 1-Year Premium Access subscription to its lowest ever!
Simply input the code CHRISTMAS2019 in the "Enter coupon code" field when you choose [Subscription Plan 1] * 1-Year Premium Access * to pay only PHP 3,999.00 instead of the full price of PHP 4,799.00. This means you're getting PHP 800.00 discount right away!
Limited number of coupon codes are available. Promo valid until all coupon codes have been used, so use the CHRISTMAS2019 coupon code today!
Happy holidays!
---
Did you know that PinoyInvestor has a generous Affiliate Program which gives you an opportunity to earn THOUSANDS OF PESOS of recurring passive income every time?
All you need to do is share your PinoyInvestor link and whenever a new person signs up for Premium Access using your link, you instantly earn up to PHP 1,300 cash every time!
The good thing is that, every time your referred member renews Premium membership, you get paid every month or every year!
Take a look at how much our Top Affiliate Marketers have already earned so far:
Earnings of our Top Affiliate Marketers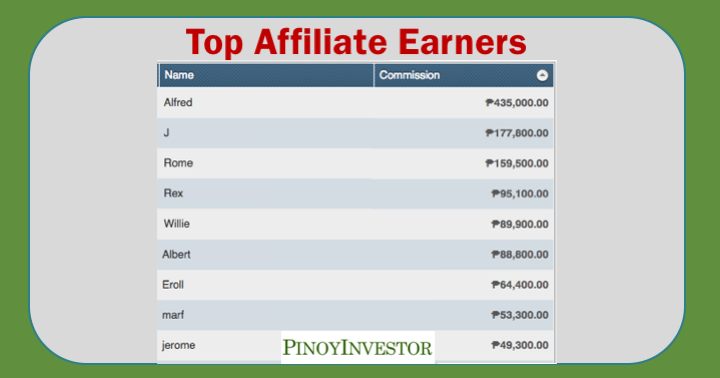 Our top affiliate marketer is Alfred, who has been a PinoyInvestor subscriber since 2014. Did you know that he has already earned more than P435,000 so far?
We contacted him to congratulate on this achievement. This is what he told us:
"Maraming salamat po. Malaking tulong po ang affiliate income ng PinoyInvestor. Umabot na pala ako ng P400,000? Thank you very much! 🙂

Ipagpapatuloy ko pa pong i-promote ang PinoyInvestor dahil sobrang useful po nito. Nakakatuwa na kahit free member lang ako, puwede akong kumita!

Thank you po!"
Do you want to join Alfred and our top affiliate marketers in earning thousands of pesos of income every time?
If yes, read on as we reveal to you our BEST promotional tool ever!
Top Secret Revealed: How to easily promote PinoyInvestor
We've simplified the way you can get affiliates through our awesome Content Sharing Tool. How does it work? Simply follow these steps:
---
1. Get your username in the

Members Area

.
This is the name you see in the greeting "Logged in as xxxxx." (xxxxx is your username.)
---
2. Choose the PinoyInvestor report you want to share.
Share any stock report or link on the PinoyInvestor website. We recommend sharing our Free Reports, which are free-to-read reports available to everyone:
---
3. Get the link or URL of that post and attach this short code at the end of that link:
(replace xxxxx with your username, which you got from Step 1, so that the member will be credited under you).
Example: If you want to share a report with this link — https://www.pinoyinvestor.com/smartinvestor/exclusive-special-report-10-stocks-common-investment-funds-jan-2018/ — just add the affiliate code at the end of the link:
https://www.pinoyinvestor.com/smartinvestor/exclusive-special-report-10-stocks-common-investment-funds-jan-2018/?ref=xxxxx
IMPORTANT! Add the code ?ref=xxxxx at the end of the URL and replace xxxxx with your username so you'll earn credit for the referral.
---
4. That's it! Share these links on Facebook, Twitter, email, everywhere!
When people click on your link, you instantly earn cash when they sign up to Premium Access!
---
5. Do you want to shorten the link or hide your username in that link?
If you want to shorten that long URL or to hide your username, use URL shorteners such as bit.ly, goo.gl, tinyurl.com or any other similar service. That shortened URL is what you will share to get referrals.
---
How to check your affiliate earnings and statistics
We also provide you a tracking and statistics tool inside the Member's Area so you can monitor your affiliate sales and earnings.
Simply login to your account, head over to Affiliate Info > Statistics to view your Affiliate Report.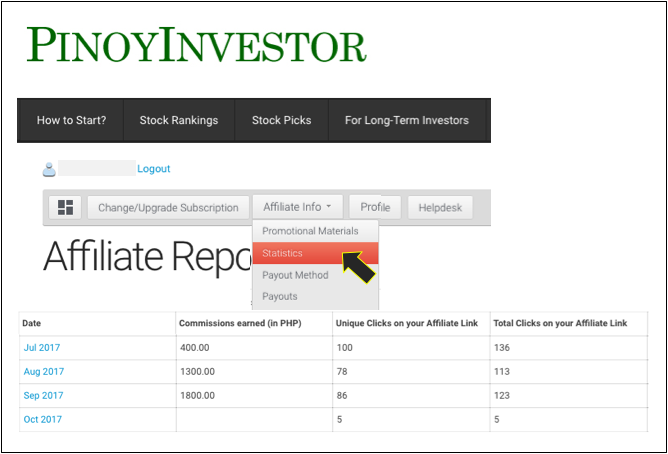 Start earning THOUSANDS OF PESOS today! Happy smart investing!