Oftentimes, we encounter a lot of people asking this question when it comes to stock trading:
What stock should I buy?
Most of the time, new or aspiring stock traders post this question on various Facebook groups, hoping to elicit a response from veterans. This question is common because people believe that a stock that is deemed good by a lot of folks – even if they don't know these folks – should also be good for them!

There's just one problem though when it comes to this question. What is it?
It is the single most dangerous question to ask about stock trading.
Why so?
Because if Juan dela Cruz asks this to a big Facebook group of stock investors, he might receive the following replies:
Buy TEL. It's a big company so it's safe! It also pays big dividends to shareholders. And hello, it's an MVP (Manny V. Pangilinan) company!
PGOLD of course! It's rapidly expanding, it just bought S&R, and will buy more in the future!
I say MEG. Its technical indicators are currently showing signs of a rally with an upside of +15%.
SUN. My friend told me to buy. So when I checked, it doubled in value pala just last week!!
So given all these, which stock should Juan dela Cruz buy? What's the right answer?
Going back, the question of "What stock should I buy?" is the most dangerous to ask because the answers could ALL be right.
But at the same time, they could ALL be WRONG as well.
Why?
Because before anything else, the MOST IMPORTANT factor that determines what stocks you should buy is your INVESTMENT OBJECTIVE.
WHAT IS AN INVESTMENT OBJECTIVE?
An Investment Objective is the target that a person sets for his investments based on his or her time horizon and risk tolerance.
Obviously, different people have different time horizons and risk tolerance levels. In general, you can't expect a retiree to have an investment time horizon as long as that of his 25-year-old grandson. At the same time, he probably wouldn't put a lot of his money in high-growth but very speculative stocks that his grandson just invested in.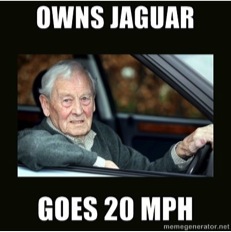 Why is that? Well, for time horizon, a retiree does not have 40 more years to grow his money; realistically, he will be left perhaps with ~15 years. And more often than not, he will be looking to spend his money rather than put them in long-term investments!
For risk tolerance, you'd simply have to consider his situation now that he is retired. He no longer earns a stable income from his job but he will still have to pay for food, shelter, transportation, general maintenance, and other living expenses. He will be faced with medical bills as he grows older. And he has children and grandchildren to help! More often that not, this will make him risk averse.
As for his 25-year-old grandson? Having 40 more years of income from his job would definitely make him feel secure about putting his money in riskier, long-term investments. And he probably feels that he has to, anyway, because he needs to grow his money in the long run for when he retires!
WHAT ARE THE DIFFERENT INVESTMENT OBJECTIVES?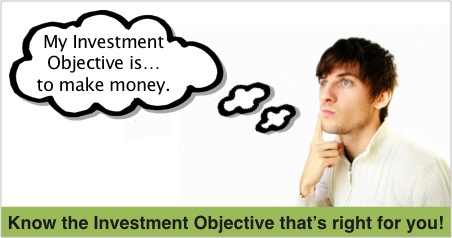 So now that we know what the primary factors that determine an Investment Objective are, let's take a look at actual Investment Objectives (and no, "to make money" is not enough) that are most widely known:
[list style="check"]
Wealthy people and those in the spending and gifting phases are most interested in preservation of capital. This is the most conservative investment strategy, and it is intended solely to avoid risk of loss. Less risk, of course, means less return.
For this investor, safety is extremely important – even to the extent of giving up return for security. The logic for this safety is clear. If they lose their money through foolish investment and are retired, it is unlikely that they will get a chance to replace it.
INVESTMENTS FOR THIS OBJECTIVE: Low-yielding bonds and money market funds, like Time Deposits, are the foundation of a capital preservation strategy.
Conversely, current income is the strategy focused on getting returns on investment as quickly as possible.
Investments using this objective produce current income on a regular basis. Many people who pursue a strategy of current income are retired and use the income for living expenses. Other people take advantage of a lump sum of capital to create an income stream that never touches the principal, yet provides cash for certain current needs (i.e. tuition for grandchildren's education).
INVESTMENTS FOR THIS OBJECTIVE: High-interest bonds and high-dividend stocks are its mainstays.
Capital Appreciation is the need to grow, rather than simply preserve, capital in the long term. To accomplish this objective, the return objective should be equal to a return that exceeds the expected inflation. If this is your objective, you are planning to hold the stocks for many years.
A typical strategy may employ making regular purchases. You are not very concerned with day-to-day fluctuations, but keep a close eye on the fundamentals of the company for changes that could affect long-term growth.
INVESTMENTS FOR THIS OBJECTIVE: A growth stock generally does not offer a dividend, and the entire payoff with this strategy is in selling it years from now for many multiples of what you paid for it today.
[/list]
GOING BACK TO JUAN DELA CRUZ
With all of these Investment Objectives in mind, we now turn our attention back to Juan dela Cruz. As you may know by now, answering his question isn't exactly as straightforward as just mentioning some stocks and justifying its profit potential!
Why? Because we don't even know what Juan Dela Cruz's Investment Objective is! Or worse, if he even has one!
Imagine the consequences: Suppose his Investment Objective is Capital Preservation as he is quite risk averse but he ends up buying SUN because, as the commenter said, "it doubled in value pala just last week!!". What would've happened to his investment capital?
Down by ~60% in just 3 months.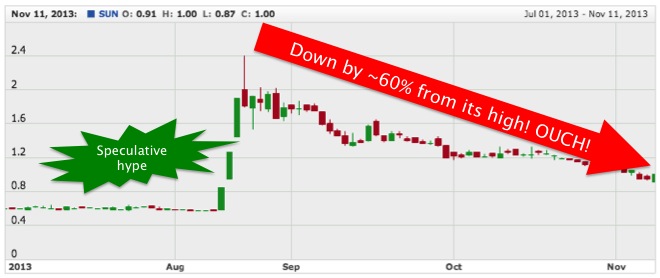 That's because SUN is a highly speculative stock. It's definitely not similar to stocks of large, stable companies owned for capital preservation!
Juan could have avoided all this had he focused only on investments that met his Investment Objective. And given this, he probably should not have considered stocks to begin with!
THE RIGHT WAY TO ANSWER THE MOST DANGEROUS QUESTION
So now, you might be wondering, how then should we answer the question of "What stock should I buy?" whenever we are asked about it or see it on Facebook groups?
Simple. By replying:
It depends. What is your Investment Objective?
When it comes to the stock market (and essentially, anything in life!), let's make it a habit to know first the context before giving our thoughts. Seek first to understand, before being understood. Keeping Investment Objectives in mind helps us better help people and also help ourselves!
We hope that at this point, you've realized how important Investment Objectives are for all investors. Don't invest before having one! It should give you clarity on which investments could truly help you reach your goals, given your time horizon and risk tolerance. You wouldn't want to find yourself trading stocks that don't help you achieve your Investment Objective, right?
HOW PINOYINVESTOR VALUES THE DIFFERENT INVESTMENT OBJECTIVES
As you may know already, we at PinoyInvestor receive A LOT of stock information and analyses from our expert partner brokerage firms. Our partners produce top-notch stock reports that help PinoyInvestor members make smart short-term trading OR long-term investing decisions!
And as you can imagine, all this information may cause problems, if left unorganized. Juan Dela Cruz and our members might unintentionally use stock information meant for short-term trading even if they're actually into long-term investing (as with an Investment Objective of Capital Appreciation)!
To ensure that this does not happen, we organize ALL the stock information and analyses we receive from our expert partner brokerage firms according to what's appropriate for each Investment Objective. Yes, we do this, aside from ensuring that all this stock information is tailored to be concise and easy-to-understand!
For example, all our expert partners' Top Stock Picks are organized according to increasing level of risk tolerance/appetite: PSEi, Growth, and Speculative. As you can see below, each categorization caters to different investors!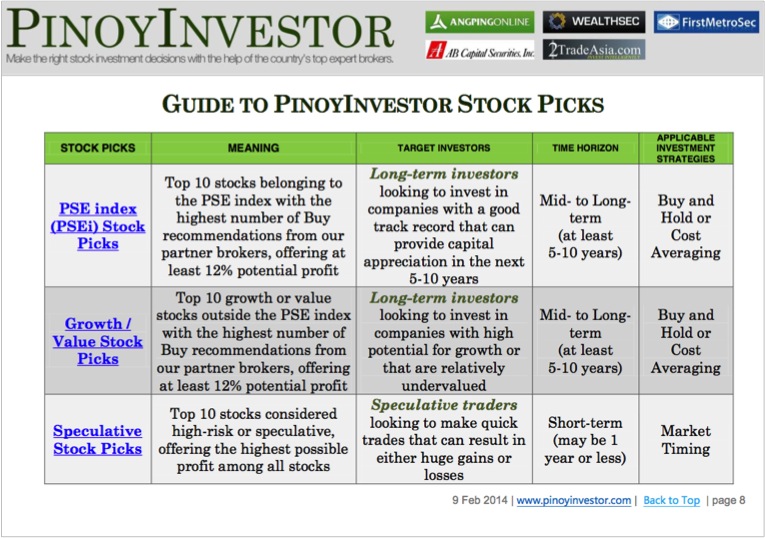 We do this for ALL of the sections in the PinoyInvestor Stocks Report. This is just one of the ways by which we can help our members make smart investment decisions AND promote to Filipinos the value of having an Investment Objective!
ONE FINAL QUESTION
By now, there's really only one thing left to do. And that is, to throw the question back at you:
What's your Investment Objective?
If you want to get more helpful information like this, just sign-up to PinoyInvestor! Not only will you get FREE ACCESS to the PinoyInvestor Academy (which contains all of our educational resources on Investment Objectives and stock investing), you'll also get the twice-a-week PinoyInvestor Stocks Report! This shares with you the Stock Picks and Analyses of the Philippines' best brokerage firms!
And yes, you can sign-up to PinoyInvestor for FREE! You'll even be able to download our FULL resource material on Investment Objectives and learn ONE MORE Objective that wasn't included in this article: TOTAL RETURN.