PinoyInvestor is the ONLY stock investment and trading resource that shows you the Top Stock Picks, Target Prices, Buy/Sell/Hold recommendations, and Technical Analysis of several of the Philippine's best brokerage firms. Make more profitable investments now! Be guided by expert brokers and sign up for the weekly PinoyInvestor Stocks Report!
After presenting the analysis of 3 initial public offerings (IPO) just 2 weeks ago, we have 3 new IPOs again! These are: Discovery World Corp., Frontier Oil Corp., and Concepcion Industrial Corp.
Once again, before reading our analysis and deciding if you want to invest, don't forget these facts about IPOs:
IPOs are generally overpriced because these companies are raising as much funds as they possibly and justifiably can.
Aside from this, they have to pay for underwriting and other fees that the IPO price must offset.
IPOs globally in the last 100 years have generally surged and after a while have dropped in share price.
For technical analysts, there is no chart or price movement history which you can analyze as of course, the stock is just about to be listed – thus, rendering your discipline useless.
Though IPOs are generally hit-or-miss, there are some valuable, steeply discounted ones that you can make a lot of money on!
Now that we have those covered, let's get to the question at hand: Which IPO looks profitable enough (if any) that you should invest in it? 
That's what this week's PinoyInvestor Midweek Report is for! The Midweek Report contains the extensive analysis of one of our expert partner brokers, Angping & Associates Securities, on the upcoming IPOs of the following:
Discovery: owner/operator of Discovery Shores Boracay and Club Paradise
Frontier: oil and gas exploration company
Concepcion Industrial: the country's leading supplier of aircons and refrigerators
Should you buy these stocks at the IPO? Wait 'til prices dip? Or avoid these stocks at all cost? Know the expert recommendation in our Midweek Report!
Check out short snippets of the 13-page IPO analysis (found only in the actual Midweek Report PDF) below: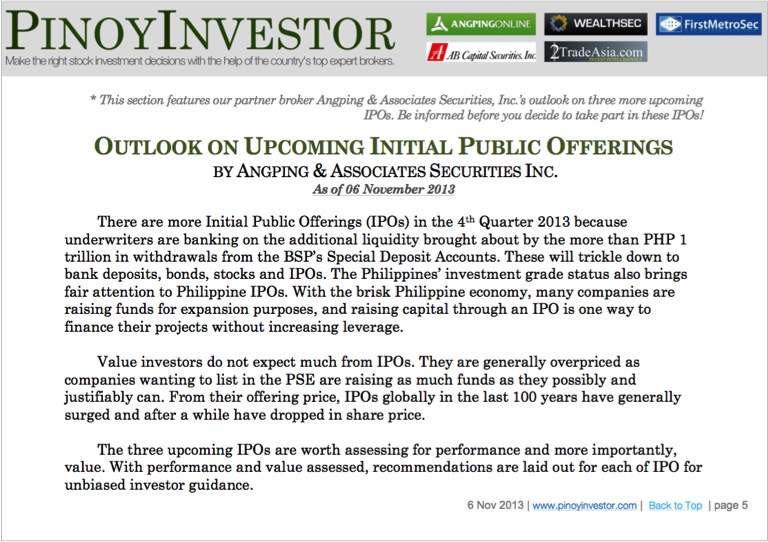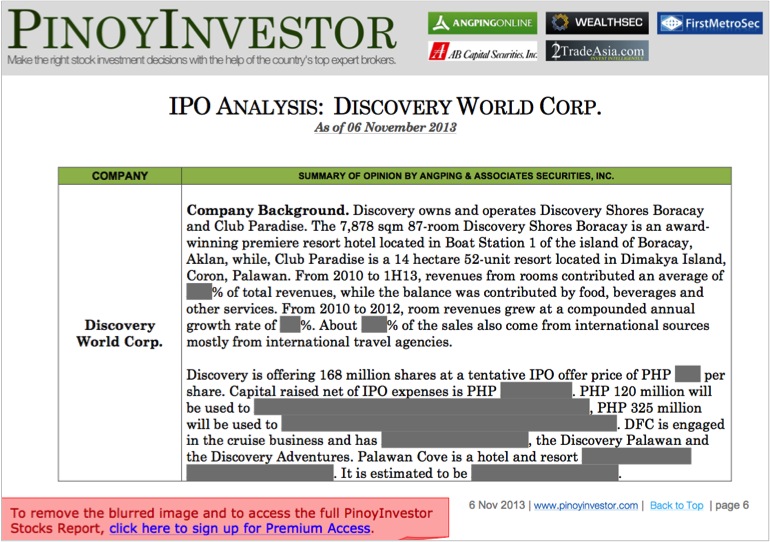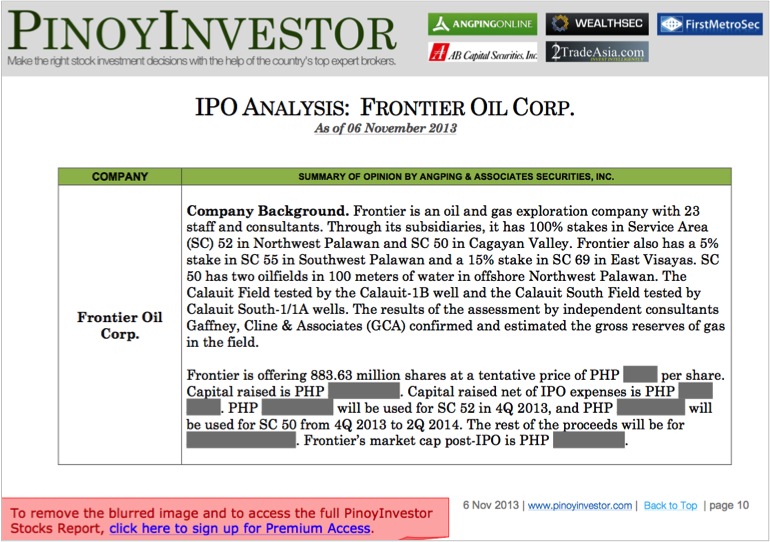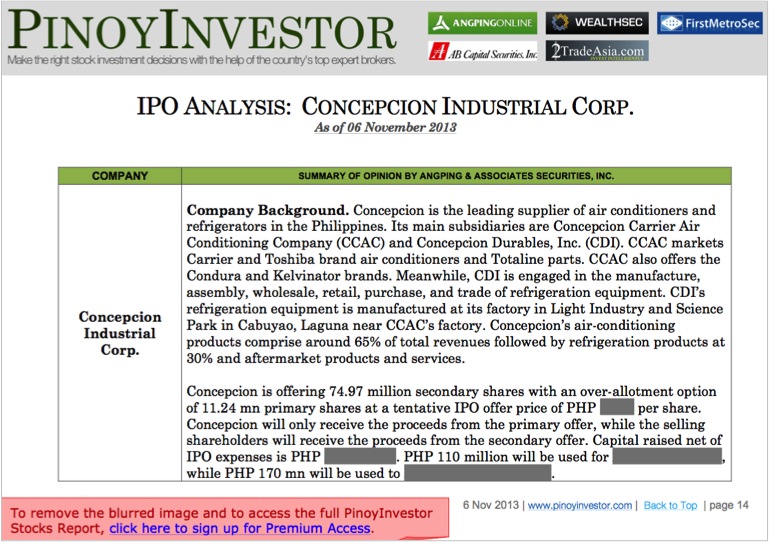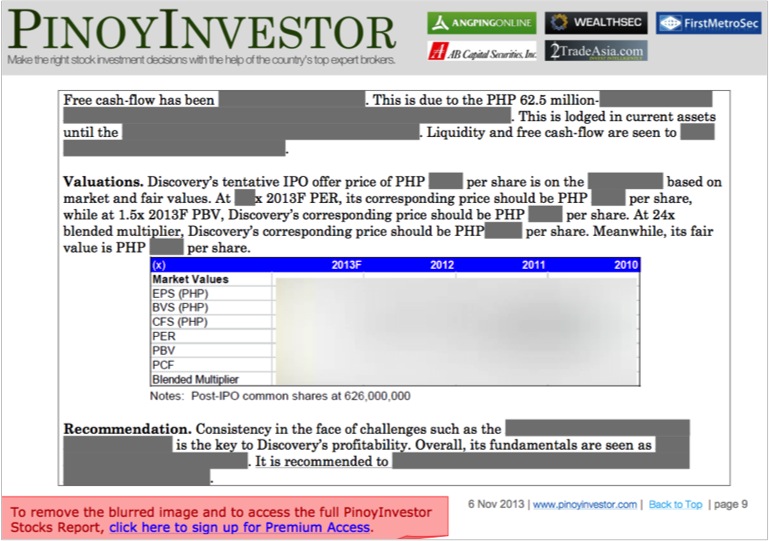 As always, each IPO was broken down and analyzed according to these factors:
Company Background: Know what the company does and how it makes money before you invest!
Profitability: How are their earnings? Improving? Eroding? Why?
Financial Condition: Are they in deep debt? Or do they have a lot cash on hand to repay short- and long-term liabilities?
Valuations: Using various valuation methods (P/E, P/BV, fair value, etc.), are their share prices overpriced? Or are they being offered at a bargain?
Recommendation: With all these factors in mind, would Angping & Associates Securities recommend that you invest in all of these IPOs? If not, which one? And when – now or when the price dips?
Read ALL information in this extensive IPO analysis now! Just SIGN UP to PinoyInvestor Premium Access! If you do, you'll also get these every week: Stock Picks for both short-term trading and long-term investing, Target Prices, Buy / Sell / Hold recommendations, and Technical Analysis of five (5) of the Philippines' best brokerage firms!
Aside from the IPO analysis, your Midweek Report also contains:
This Week's Midweek Market Outlook
[STOCK UPDATES] — Corporate News and Disclosures (with expert analysis from the Philippines' best brokerage firms!)
[4 Technicals Talk] — Philippine National Bank (PNB), Petron Corporation (PCOR), BDO Unibank, Inc. (BDO), Philippine Long Distance Telephone Company (TEL)
But if you want to try out PinoyInvestor first, you can always SIGN UP to a PinoyInvestor FREE Version account first. Though you won't see ALL of the valuable stock information we provide to Premium Access members, you will still be eligibile to join the Ultimate PinoyInvestor Year-end Gadget Giveaway – where you can get for FREE the all new iPhone 5S, iPads, gift certificates for shopping, and a lot of other great prizes!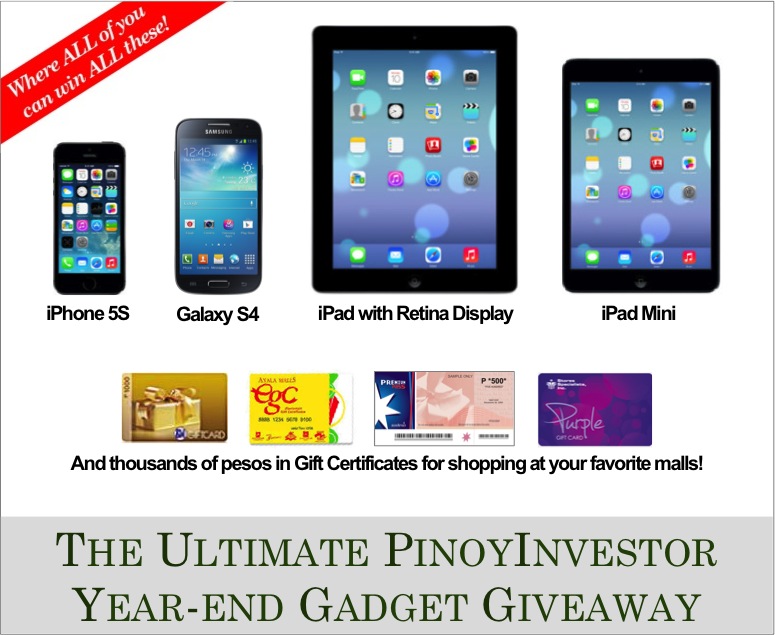 Remember, this isn't a raffle; it's a giveaway where ALL of you can win ALL of these great prizes!
So what are you waiting for? SIGN UP now to be eligible for this huge giveaway and to get the extensive analysis for the upcoming IPOs!