Get ready for the best PinoyInvestor yet.
To further our vision of helping you make smart investment decisions, we have completely overhauled how PinoyInvestor works. Starting June 22, PinoyInvestor will become a 100% web-based portal that will serve as the most extensive yet easy-to-use repository of the most relevant stock analyses, research, and special reports from the Philippines' top stock brokers!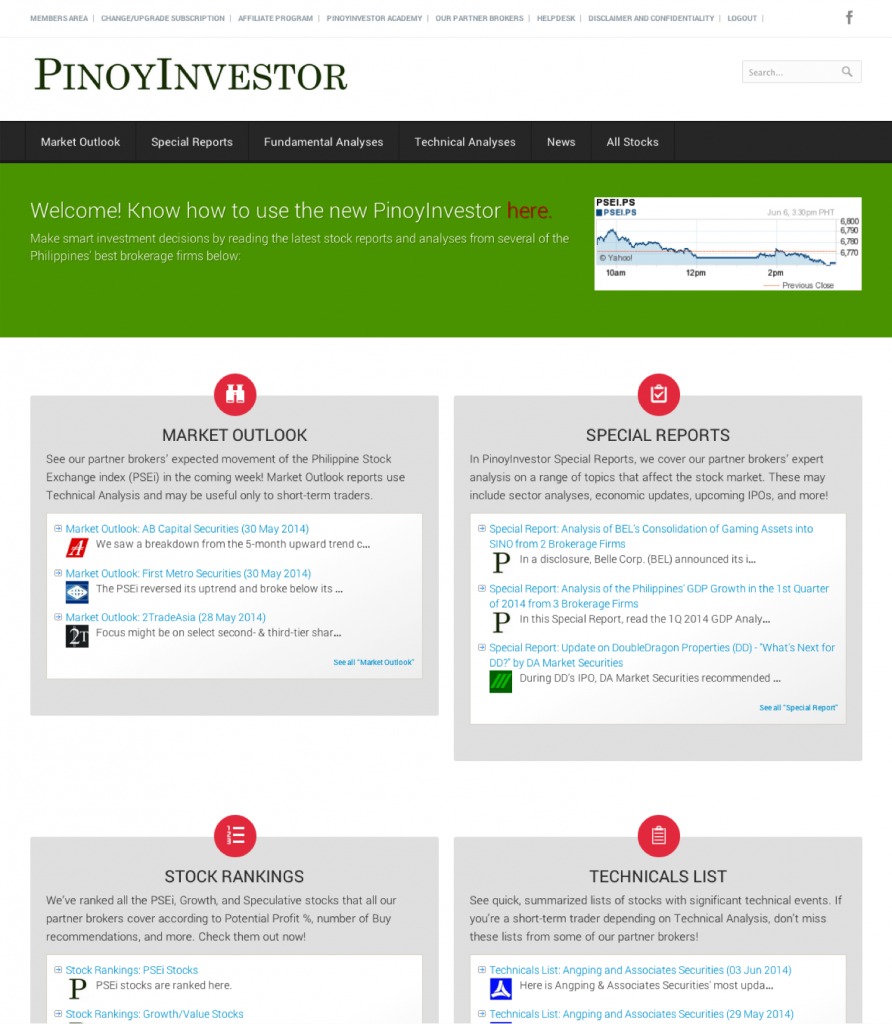 What are the benefits of the new PinoyInvestor?
[list style="check"]
Get reports and analyses every day. No more twice-a-week PDF newsletters. We will update the new PinoyInvestor website every day so you'll always get stock reports when you need them! All sections, including our Stock Rankings (PSEi, Growth/Value, Speculative) and Technical Analyses will be updated every day!
See the Stock Rankings your way. You can now sort our Stock Ranking tables any way you want! Would you like to see which stock has the biggest PROFIT POTENTIAL? Most BUY recommendations? Most SELL recommendations? You can do these with the new PinoyInvestor!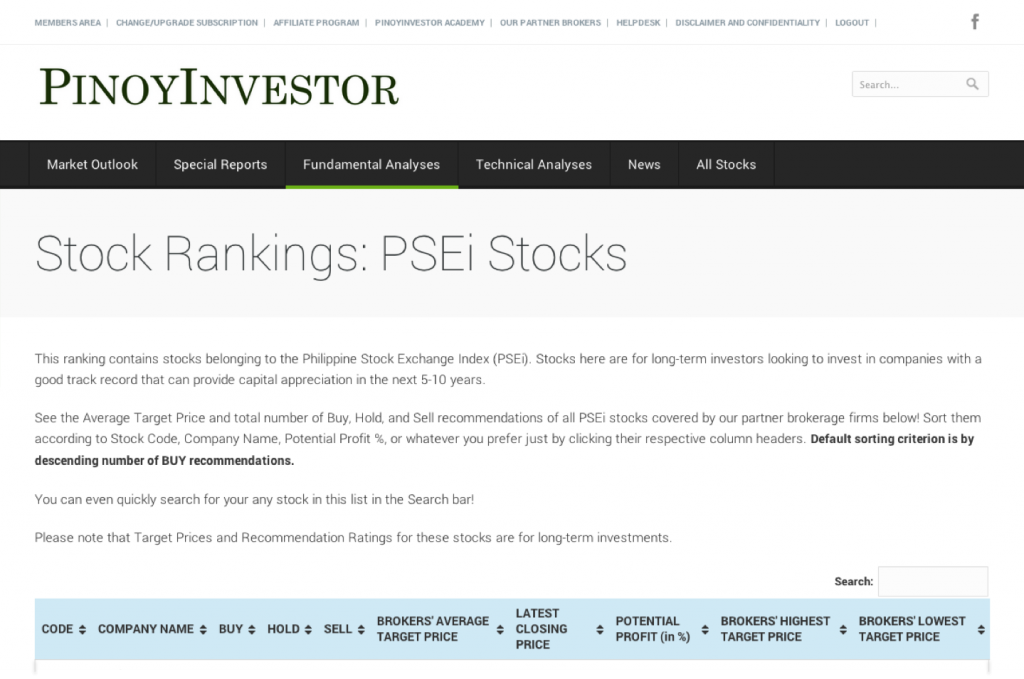 One-click access to all stock reports. You can easily browse for all reports for any stock in our coverage! Simply click on the "All Stocks" menu bar OR just search for the stock in the Search bar!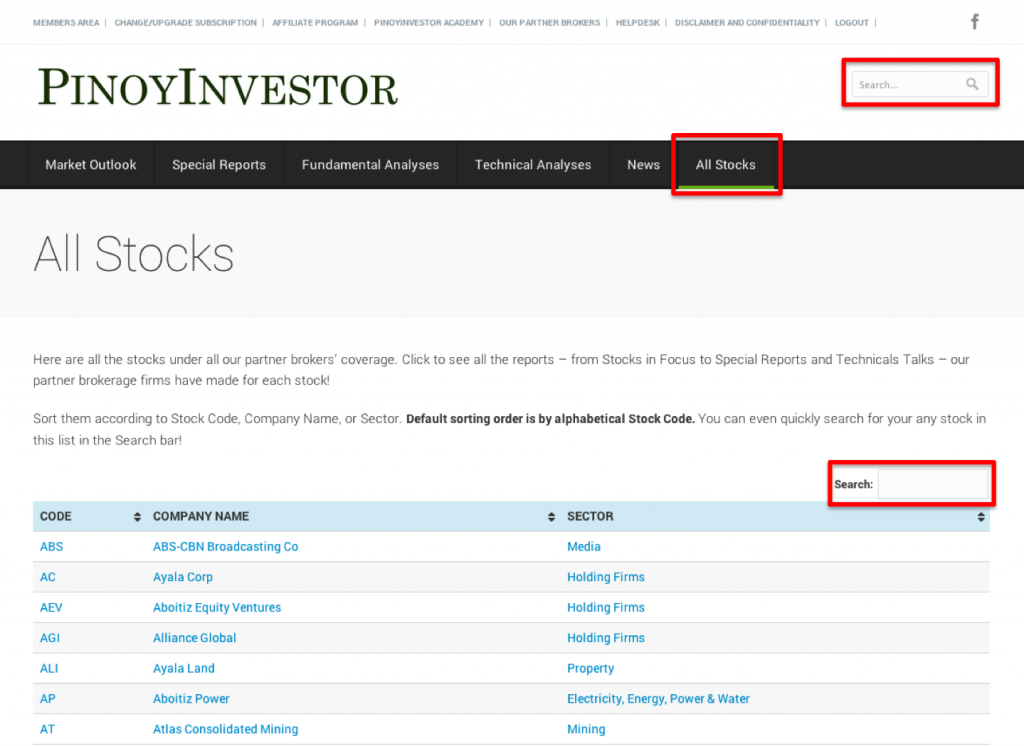 All reports of your favorite stock in one place. Each stock will also now have its own dedicated page. All information about that stock — Special Reports, Stock in Focus, Technicals Talk, Cash Dividends Update, News and Disclosures, etc. — will be consolidated in one page!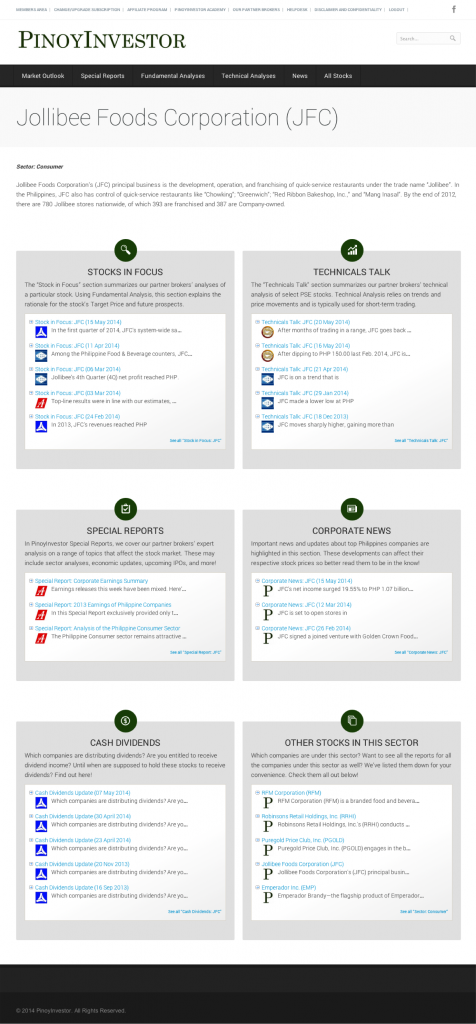 New tools for Technical Analysts. We also have a NEW feature that will be truly helpful to short-term traders and Technical Analysts: the TECHNICALS LISTS! Aside from guidance on support and resistance levels, the Technical List will contain more detailed technical indicators (MACD crosses, stochastics, oscillators, etc.). Validate your analyses and entry/exit points here!
[/list]
Time-Limited Discount Offers for NEW SUBSCRIBERS!
The new PinoyInvestor comes with new subscription plans — including a 1-Year Premium Access plan which most of you have requested from us before! The new subscription rates are as follows:

But here's the GOOD news!
For a limited time, you can still take advantage of our OLD, CHEAPER prices! Take advantage of the DISCOUNTED rates before the price increase next week! Click the button below to lock in your membership with our Time-Limited Discounted Prices!
(Once the new PinoyInvestor is launched, our 1-Year Premium Access plan will cost P4,799 per year — but click the button now to get this at a DISCOUNTED PRICE of P4,200! Time-limited offer will expire next week so get this right now!)
No Price Increase for Active Subscribers using Paypal!
If you have paid or will pay using your credit card via PayPal by June 21 and as long as this recurring PayPal schedule doesn't get cancelled (by you, your credit card expiration, etc.), you will still be charged the OLD, CHEAPER price even once the new PinoyInvestor is launched! This is our way of thanking you for being a loyal PinoyInvestor subscriber.
Again, let us reiterate: If you have an active, recurring PayPal schedule by June 21 AND are not switching subscription plans, you have absolutely nothing to worry about as nothing will change for you! No Price Increase for you even after June 21!
Discounted Prices for Current Subscribers using Bank Deposit!
If you are a current subscriber who uses Bank Deposit as payment method, you will be charged the new, higher rates once your current subscription expires (after June 21). We thus highly encourage you to extend your current Premium subscription to a longer subscription using our Time-Limited Discount Offers.
Take note: once your current subscription expires, you will be charged the new, higher subscription prices, so don't forget to lock-in your subscription for as long as you can by June 21!
For Current Subscribers who want to Change Subscription Plan
Do you currently have a recurring PayPal payment schedule and want to change your subscription plan (for example, switch from Monthly Plan to 1-Year Plan)?
Not to worry! We will refund you on a pro-rated basis for the remaining, unfinished subscription cycle when you upgrade!
For example: If you have a recurring Monthly Premium Access subscription that's only 2 weeks finished and you decide to upgrade to a 1-Year Premium Access plan, we will refund you for half of that unfinished Monthly Premium Access subscription!
Just send us a Helpdesk ticket when you have upgraded and we'll immediately help you with your pro-rated refund!
The new PinoyInvestor — launching on June 22!
The best PinoyInvestor is coming on June 22 and with it comes new, higher subscription rates. Take advantage of our discounted Premium Access subscription plans while prices are low!
Remember: our DISCOUNTED PRICE offers are time-limited and will expire next week!