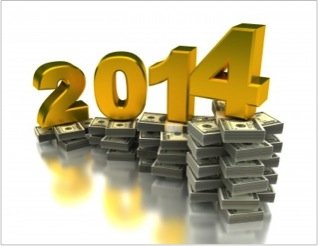 Smart stock market investors look for two things when picking superior stocks: HIGH GROWTH PROSPECTS and STRONG CASH DIVIDENDS.
High growth prospects relate to the appreciation of a stock's price. This can be due to positive developments concerning the earnings of a company or simply, a stock returning to its fair price after being previously undervalued for no fundamental reason at all.
Cash dividends, on the other hand, are a good source of returns – especially when a stock's price hasn't risen to its fair value yet. Some stocks give a cash dividend return that already covers annual inflation already!
In 2014, which stocks could provide high growth prospects and strong cash dividends to investors?
That's what the Special Report of our partner broker, Angping & Associates Securities (AASI), reveals to our members in the PinoyInvestor Midweek Report for January 15, 2014.
SPECIAL REPORT: STOCKS THAT COULD PROVIDE SUPERIOR RETURNS IN 2014
As you can see in snippets of the Special Report below, AASI used the Price/Earnings to Growth (PEG) ratio to calculate for high growth prospects. For cash dividends, AASI used Cash Dividend Yields. All figures used in this analysis were from their 2014 forecasts.
They also teach you how to solve for a stock's PEG ratio and its usefulness!
The stocks analyzed in their coverage were divided into the following sectors: Banking, Food & Beverage, Mining, Power & Utility, Telecom & Broadcasting, and Transportation & Storage. This is so you can see which stocks could generate superior returns vs. their competitors this year!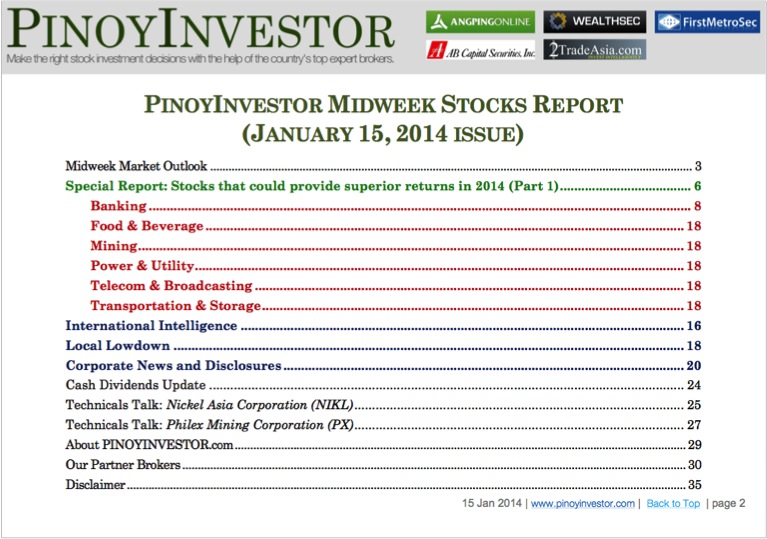 GET THE SPECIAL REPORT NOW!
If you want to see the Special Report, just SIGN UP to PinoyInvestor! With a PinoyInvestor membership, you will also get ALL of our expert partner brokerage firms' Top Stock Picks, Target Prices, Buy/Sell/Hold Recommendations, Fundamental Analysis, and Technical Analysis twice a week!
And yes, you can sign-up to PinoyInvestor for FREE first to try it out. Happy investing!