Despite the further decline of the stock market last week, a PinoyInvestor Speculative Stock Pick gained almost 10%! Care to guess which stock it was? Here are some clues to help you:
Its exact stock price increase last week was 9.75%.
It is garnering success in the Public-Private Partnership (PPP) initiatives of the government.
It is in the construction industry.
Scroll down to know the answer!
Ready?
The answer is:
Megawide Construction Corporation (MWIDE)!
From its closing price of PHP 11.28 last December 6, MWIDE closed at PHP 12.38 last December 13 for a rise in stock price of 7.5%! See it featured in the latest Stocks Report (and our previous analysis of the construction industry's post-Yolanda rise) below: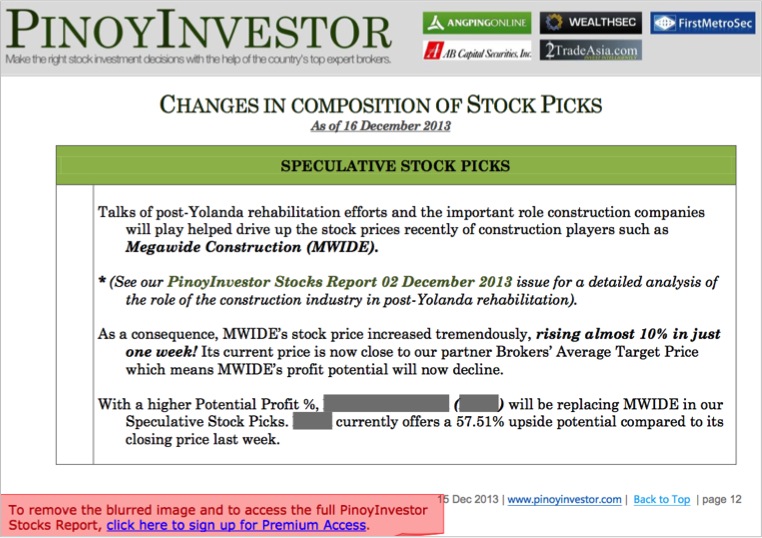 It has also won several PPP bids, with the latest one being the Mactan-Cebu International Airport Modernization and Expansion project. Together with GMR Infrastructure Ltd., their consortium offered the highest of PHP 14.4 billion to win the bid and best other consortiums! See our feature on this big MWIDE news in one page of the latest Stock Report's Corporate News section below: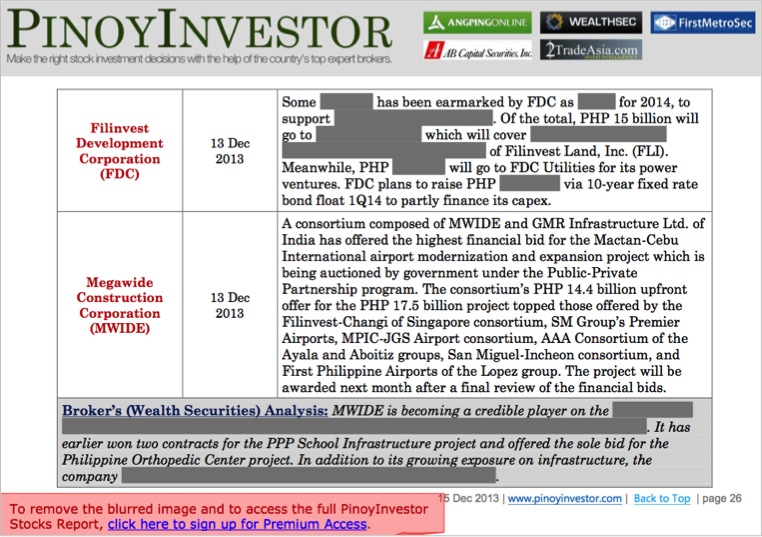 Congratulations to the PinoyInvestor Premium Access members who had MWIDE on their portfolio! Truly, there will still be money to be made even on a declining stock market.
For those who are thinking of signing up for the PinoyInvestor Stocks Report, remember that you can SIGN UP for FREE first! If you do, you will still get FREE stock market information, like the Technical Analysis of BLOOM in the latest Stocks Report below:
Aside from this Technical Analysis, FREE members get the following stock information in this week's issue for FREE as well:
Fundamental Analysis of Atlas Consolidated Mining & Development Corporation (AT)
1 FREE PSEi Stock Pick
1 FREE Growth/Value Stock Pick
1 FREE Speculative Stock Pick
and many other stock market information!
Happy investing!
PinoyInvestor is the ONLY stock investment and trading resource that shows you the Top Stock Picks, Target Prices, Buy/Sell/Hold recommendations, and Technical Analysis of several of the Philippine's best brokerage firms. Make more profitable investments now and sign up for the weekly 

PinoyInvestor Stocks Report!