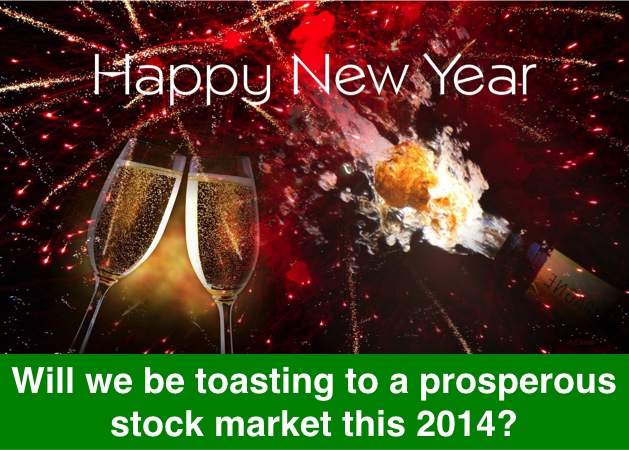 As we open a new chapter with New Year 2014, we also bid farewell to the roller-coaster Philippine stock market we experienced in 2013. If you don't believe how volatile the stock market was last year, check out these facts:
The PSEi ended 2012 at around 5,812 and rose to ~7,400 in May – a staggering gain of about 27% in 5 months!
It then lost around 25% (at 5,600-level) in just a matter of weeks due to news about the tapering of Quantitative Easing (QE).
Since then, it reached the 6,500-level again, only to drop back down to 5,600 levels. Up and down until closing the year at 5,889.83 – a mere 1.33% gain for 2013.

And it wasn't just the PSEi; various stock markets all over the world also experienced extreme volatility, especially fellow developing markets like Indonesia and Thailand!
And to think various "analysts" proclaimed that this is the Philippines' time to shine and predicted the PSEi to reach 8,000 (and even 10,000!!!) levels soon!
In relation to this, even the Philippine Peso was as volatile as they come. From appreciating to a strong rate of PHP ~40 to US$ 1, we closed the year at just PHP ~44.41 to US$! Yes, this happened, despite the proclamations of various "gurus" that we will have seen the Peso at PHP ~35 levels soon!
Thus, in light of all this volatility, a lot of people unfortunately experienced one or some of the following:
from being short-term traders, became long-term investors in an instant (wink!)
bought and sold stocks WITHOUT any Investment Objective or Strategy, all because they saw those stocks being talked about on Facebook
frantically followed stock advice wherever they got them
left the stock market for good, brandishing it as the realm of gamblers alone
So in 2014, let us leave all these mistakes in the past. The equity markets are volatile and can be unforgiving! If you need help to make sense of what's happening in the market AND expert guidance so you can make your own smart investment decisions in 2014, then we're here to help!
Why?
Because that's what PinoyInvestor is here for! PinoyInvestor will provide you with the most extensive stock information – as analyzed only be real, PSE-registered expert brokers – so you can make intelligent, independent, and responsible stock investment decisions!
For starters, our last issue for 2013 was a Special Report on the 2014 PSE Outlook and Top Stock Picks! This was prepared by one of our expert partner brokerage firms, AB Capital Securities.
Check out the introduction to this report by seeing snippets of it below:
And as you can see in the report's Table of Contents below, AB Capital Securities analyzed ALL SECTORS and presented its 2014 Outlook and Stock Picks for each!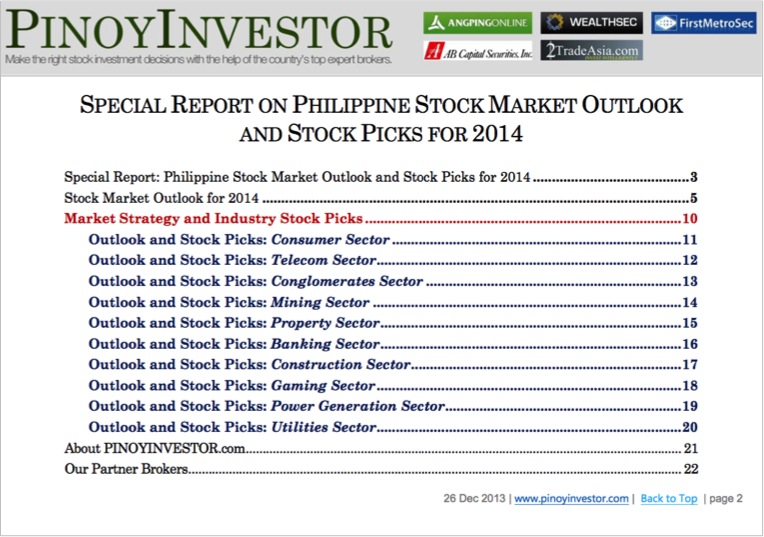 If you want to get this Special Report, just SIGN UP to PinoyInvestor! As always, you will ALSO get all of our expert partner brokerage firms' Top Stock Picks, Target Prices, Buy/Sell/Hold Recommendations, Fundamental Analysis, and Technical Analysis twice a week!
And yes, you can sign-up to PinoyInvestor for FREE first to try it out!