Happy New Year, everyone! From all of us here at PinoyInvestor, we wish you a happier, more prosperous and more profitable 2014!
How was the past year for you? At PinoyInvestor, we can say that 2013 was an exciting and successful year for us.  Here's what happened to us in 2013:
Thousands of members signed up and enjoyed great value with the now twice-a-week PinoyInvestor Stocks Report! Every start of the week, we give our members an information-packed Stocks Report and, in the middle of trading every week, we publish a concise Midweek Report for additional, useful information!
We ended the year having exclusive partnerships with five (5) expert brokerage firms that continue to give guidance to stock investors! Since this is their expertise, we are assured of the quality of their output unlike those so-called gurus, most of them anonymous, who only use Facebook or blogs for their opinion. Five (5) heads are definitely better than one! Indeed, no other stocks newsletter service offers this benefit!
We also upgraded to PinoyInvestor 2.0, where we launched a slew of features that helped our members further. More detailed reports and analyses, more Top Stocks tables, Technicals Talk for short-term traders, and more!
We published almost half-a-dozen Special Reports that focused on giving our members guides on intelligent stock investing! These are exclusive special reports that make PinoyInvestor members ahead of the pack!
Also a big hit were our PinoyInvestor Academy articles that gave educational resources on the Basics of Stock Investing, Investment Strategies, Fundamental Analysis and Technical Analysis! And yes, these educational materials are available for FREE!
In 2013, we made sure all of our efforts were geared towards providing you with the most extensive stock information so you can make independent and smart investment decisions!
For 2014, we vow to take it a notch higher.
How?
By launching new, helpful features so you can get even more useful, holistic stock information!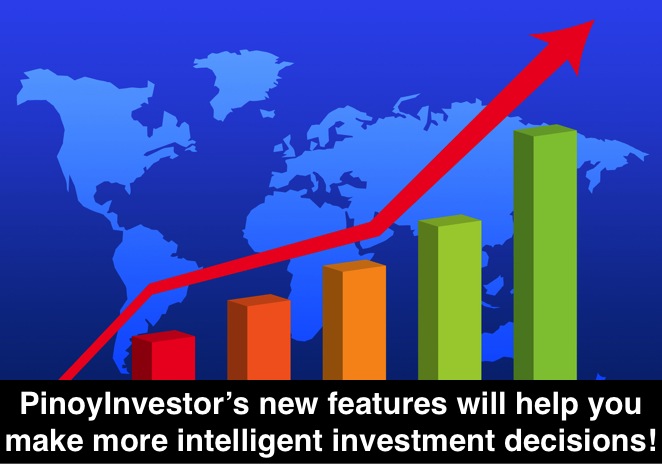 We listened to your feedback and learned of your willingness to get even more stock information, specifically: Global AND Local Economic news!
You want to understand more about the interconnectivity of the world's financial markets and how any event (QE anyone?) abroad can affect our local stock market. Moreover, you want to learn more about the local economy, the government's efforts (PPP?), and how these affect foreign investors' sentiment towards the PSE?
Look no further. This January 2014, new features for the PinoyInvestor Stocks Report will greet you a Happy New Year! Here they are:
INTERNATIONAL INTELLIGENCE: This new section in the Stocks Report shares with you the top economic news all over the world. Whether it be the latest word on the US Federal Reserve's Quantitative Easing, Japan's Abenomics, the rising prices of crude oil due to tensions in the Middle East, or the US Government's shutdown, we'll have these covered so you can better understand them and how they affect your investments!
LOCAL LOWDOWN: This new section focuses on top economic news in the Philippines. Are we expecting interest rates to rise? What is Basel 3? What is PPP (Public-Private Partnership)? We will tackle all these issues so you can have a better grasp of what's happening in the local economy and how they affect the stock market!
All these we give you in our effort to make you truly intelligent PinoyInvestors!
These new features will be available in as early as the first 2014 issue of the PinoyInvestor Stocks Report so don't miss it! To give you a sneak peek, this is what one page of the Local Lowdown looks like: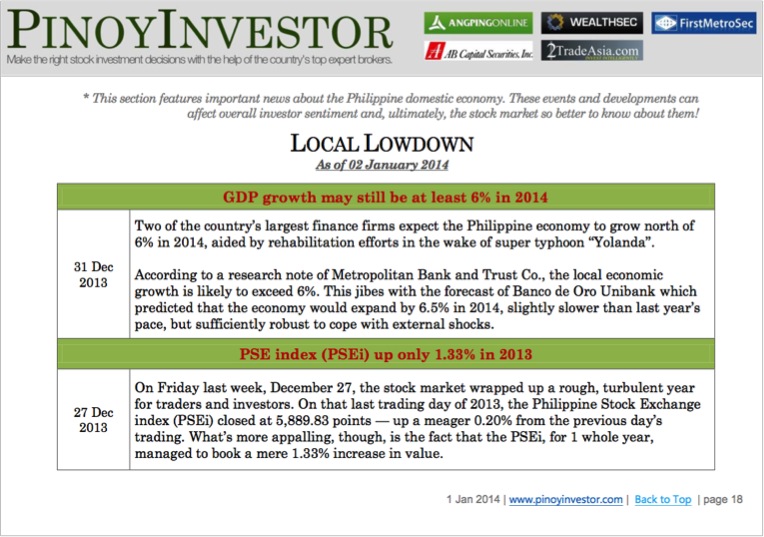 Armed with the standard features of Top Stock Picks, Target Prices, Buy/Sell/Hold recommendations, Fundamental Analysis, and Technical Analysis PLUS these two new features, the PinoyInvestor Stocks Report will surely provide you with the country's most extensive stock information to help you make independent, intelligent, and responsible stock investment decisions!
And yes, these are just the firsts of many upgrades we will implement in 2014 designed to make you the best PinoyInvestors out there!
To get a hold of the new features (International Intelligence and Local Lowdown), just SIGN UP to PinoyInvestor! You can sign up for FREE first to try it out!